Nichole Hinkle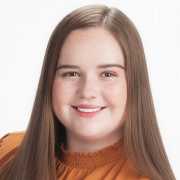 Degrees:
Current Full Time Student at Western Governors University
Credentials:
Associate Photographer with Macfarlane Photography. Previous work experience in Graphic Design. Taught Children's art privately, and at local art studio. Ran my own Etsy business making and selling my own designs for 2 years
Biography:
Nichole has been a graphic designer for CMASAS since October 2019. She spent 3.5 years at Utah State University studying art and is currently a full time student studying Secondary Education/Earth Science at Western Governors University. She also had the opportunity to spend a semester with the Walt Disney Company as an intern in Orlando, Florida through their college program. She loves Disney and enjoys going to the parks as often as she can. She has worked as a photographer most of her life at her family's photography studio and worked at a local photo lab/design studio as a graphic designer throughout high school. She's been taking photos and designing for as long as she can remember and there is nothing she enjoys more.