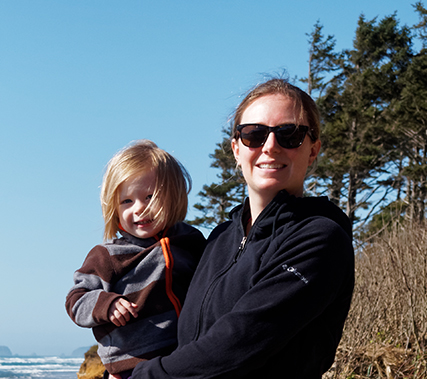 Read about the daily life and passions of Mrs. Stephanie Smith, the Japanese instructor at CMASAS. 
Tell us a little bit about yourself so that students and parents can get to know you.
I am a wife and mother of two children. My husband works at Portland General Electric and my 4 year old son goes to Japanese Immersion Preschool.  Judah is a bookworm and asks me to read to him all day long.  My 2 1/2 year old daughter, Jasmine and I like to exercise at the gym together and play Tea Party.
Why do you love to teach?
I love to share my passion for language learning, the Japanese language and culture with my students.  I have been passionate about learning Japanese since I was 13 years old and began studying the culture in FIRST GRADE!
What inspired you to want to teach at an online school that emphasizes personalized education vs a site-specific traditional school? 
I love being able to help students on their journey to learning Japanese while I am at home with my young children.  I wouldn't be able to see my children during the day if I were at a traditional school.
Do you have a favorite story of teaching where you feel you helped a student create a truly personalized learning experience?
My student wanted to tell a Japanese friend a story about how their family recently had so many hamsters join their family.  I helped the student write and practice saying the story in Japanese, so that they could surprise their Japanese friend.
As an online school teacher, what does a typical day look like for you? 
I am available every day via email for students to ask me questions.  We set up virtual meetings when they would like to talk something over or have an oral assessment to complete a unit of study.
What is one dream you have for your students' happiness and health that you enjoy encouraging them in? 
I would encourage students to use the Japanese words and phrases that they are learning in their course in the real world.  When I was in high school, I chose to only speak Japanese to my little sister (which really worked out well for everyone involved).  Getting the real life connections in will solidify the knowledge that you are learning in your course and you can make the language your own.
What is a goal or dream that you are currently working towards?
I am working on my dream of serving orphans.  I dream to help as many orphaned children find their forever family and be as happy as possible until they go home with their family.
How can parents and students contact you?
Email: ssmith@cmasas.org