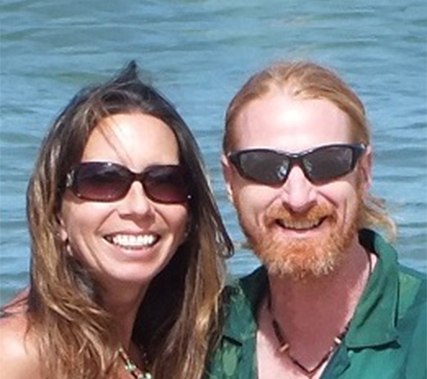 Hi Derek and Kim! Tell us a little bit about yourselves. 
Aloha!  We are Derek and Kim Ozment. We live on the island of Kaua'i in state of Hawai'i.  Besides working with CMASAS as high school and middle school science teachers and PECs, we own and operate a jewelry business. We both have extensive experience as educators in various fields. Derek has been a college lab instructor and a Middle School/High School science teacher. Kim homeschooled her three children and has taught Home Economics and P.E. for High School and adult students.  
Kim is a third dan in Tae Kwon Do and a second dan in Haidong Gumdo, both Korean-style martial arts.  She is also a certified fitness trainer and nutritionist.  She has owned and operated her own gym.
Derek's interests lie in Entomology (especially beetles) and Herpetology.  He at one time had an extensive beetle collection which he donated to Arizona State University when he and Kim moved to Kaua'i. He hesitatingly fancies himself something of an amateur astronomer, and his 6-inch telescope made the trip from Arizona to Hawai'i. 
We have six children and two grandchildren between us.
Why do you love working in education? 
We both love it when we are part of creating life-long learners in our students. Our hope is that every student not only grasps certain concepts, but is also inspired to learn beyond that! We are new to CMASAS, and we are both very excited about the freedom and creativity that the school provides for the student. 
What inspired you to want to teach at an online school that emphasizes personalized education vs a site-specific traditional school?
Derek: As an instructor at CMASAS, I like the idea that we get to work with students from all over the world. On any given day I can communicate with students from North Carolina, to Colorado, to Singapore. In this digital age a school like CMASAS makes personalized education a reality, and reflects the global community that the world has become. As a PEC it is doubly exciting to have the students meeting with each other in homeroom and sharing in this experience. 
Kim: I love the instant one-on-one time the students and I get with CMASAS. In a brick and mortar school my attention is divided between 30-35 students at any given time. At CMASAS, I am able to devote all of my attention to one student at a time. My tools are not limited to an eight hour day inside a classroom, but instead the students can contact me via electronic media (e-mail, Skype, Adobe Connect, the CMASAS website, or phone) at their convenience. 
What are some of the activities you are currently passionate about? 
In our free time, we both enjoy hiking, camping, snorkeling, biking, sitting in the sand and watching the waves…pretty much all things outdoors, all at a very laid-back and non-competitive pace these days.
How can students and parents get in touch with you? 
email: dozment@cmasas.org