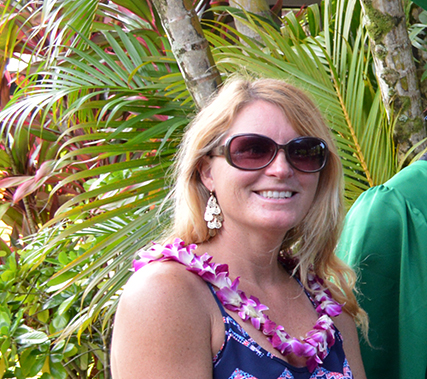 Hi Heidi! Tell us a bit about yourself. 
I currently reside in Kennewick, WA (aka, the "Tri Cities") in the eastern part of Washington where it is dry and does not rain much!I have lived and taught in Washington, Oregon, Maryland, and Utah. I am married and have two boys—ages 5 and 8. They keep me very busy with their many activities. I keep busy going to PTA meetings, playing golf, camping, attending college athletics (football especially), playing and teaching tennis, traveling to Hawai'i, reading, and playing lots of sports with my boys! I don't have much 'free time'...but when I do I like to read the newspaper or run/hike/walk.
Why do you love working in education? 
I love working with students and their families! I love getting to know kids, what they are good at, what inspires them, and what motivates them. I love how every kid and family is so unique and different! I love helping students learn something new, learn to love a new book, or just see how smart they can be! Also, and most importantly, EVERY day I LAUGH out loud and EACH day is unique and fun—THAT may be the BEST part about working in education—I am NEVER bored! Not everyone can say that about his/her job right?
What does your job look like? How do you help make CMASAS what it is? 
Well, I have worn many 'hats' here at CMASAS—instructor, PEC, fill-in-the-blank! My job is a myriad of duties and I try to fill in any gaps/holes that might be left open/uncovered here at CMASAS. It mostly looks like this: checking in on students and families via email, phone calls, Skype, etc. I read and reply to emails. I make phone calls. I reach out and try to help out our families (and/or potential families, too!) with whatever the issue may be at that point in time. But, not only do I help the students and families, I try to help the staff to do their job. If they have questions or concerns, need help or a resource, they can reach out to me and I can help them to solve a problem, find a resource, address an issue! I would say I am a HELPER or FACILITATOR on a daily basis!
What inspired you to want to work at an online school that emphasizes personalized education vs a site-specific traditional school? 
Well, this is probably not a traditional answer to this question, but I will be honest... I 'fell' into this job and have learned to LOVE it and had to learn a new way of thinking about education! This school changed my educational philosophy; as I had a different educational philosophy before I worked at this school. Originally I came to this school because I had my oldest son and I wanted to stay home with him when he was a baby, as I didn't want to send him to daycare. I figured it was a 'temporary' job for a few years while my boys were young... how wrong was I! I came to LOVE working here and I will admit that I had a full paradigm shift in my beliefs about how education can work. It is NOT to say I don't believe in public education, or any other traditional ways of educating students, but what I have mostly learned is that there should be MANY OPTIONS for the MANY DIFFERENT TYPES OF LEARNERS out there and that not everyone learns the same! I have come to realize that this type of education is not necessarily needed by everyone, but for those who need and LOVE it, it is truly a wonderful option. Thus, in essence, I was the 'accidental' personalized educator!
Do you have a favorite story from your time at CMASAS where you feel you helped a family or a student create a truly personalized learning experience?
Honestly, this is a REALLY hard question to answer. I feel like I have done this so many times, choosing just one is like asking "which of your sons do you love more?" I cannot choose just ONE! I love EVERY time I have helped a student in a difficult situation. My most satisfying experiences with students at our school have been helping them to reach the goal of earning their diploma—especially if this seemed nearly impossible before they came to our school! Some students come to us to graduate 'early', some graduate 'late', some graduate 'on time'; but every student and situation is so unique and so satisfying when they do graduate! I have basically come to realize that each and every student (and family) that come to us is like a snowflake in that NO TWO are alike!
What is one dream you have for CMASAS families that you enjoy encouraging them in? 
The one thing I want to impart to each student and family is that YOUR student/child/kid is UNIQUE and that we will treat each and every one of our students as a UNIQUE individual. I try to stress that we can work things out—no matter how bad they may seem academically when they come to us. We will LISTEN to you and we will work as a TEAM to help you and your child/student MOVE FORWARD POSITIVELY! I want them to see that we CARE and will LISTEN and we will HELP them move forward!
What is a goal or dream that you are currently working towards? 
Well, I would like to visit each and every continent on Earth. I have reached all but South America, Australia, and Antarctica thus far. Same thing for all of the U.S. states! Mostly, my biggest dream is to raise responsible, empathic, and socially conscious boys.
How can parents and students contact you?
email: hfox@cmasas.org  
phone: 1-888-832-9437 ext.640  
Call or email me anytime!