Lori Pollard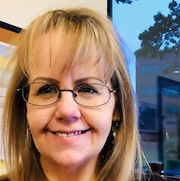 Degrees:
Batchelor of Science/English
Administrative Assistant Certificate
Biography:
Lori is an empty nester living with her husband, two cats, and one world-wise dog in the beautiful Willamette Valley near Portland, Oregon. Lori is the Registrar for CMASAS and has been with CMASAS for almost four years. Her hobbies are reading (all genres from biography to science fiction) and hiking the beautiful Pacific Northwest. Lori really loves her job with CMASAS as she is able to participate in providing families an alternative educational model. Lori homeschooled her children from K-8th grade and is an avid proponent of educational choice. Lori thinks the best feature of CMASAS is the Personalication philosophy which provides CMASAS students with a supportive and encouraging environment to honor their journey of education. Personalized Education Coaches (PECs) and highly qualified faculty enable our students to collaborate on their own educational plan. Giving students the power to make directional choices engages them in the process and prepares them for real-world engagement.