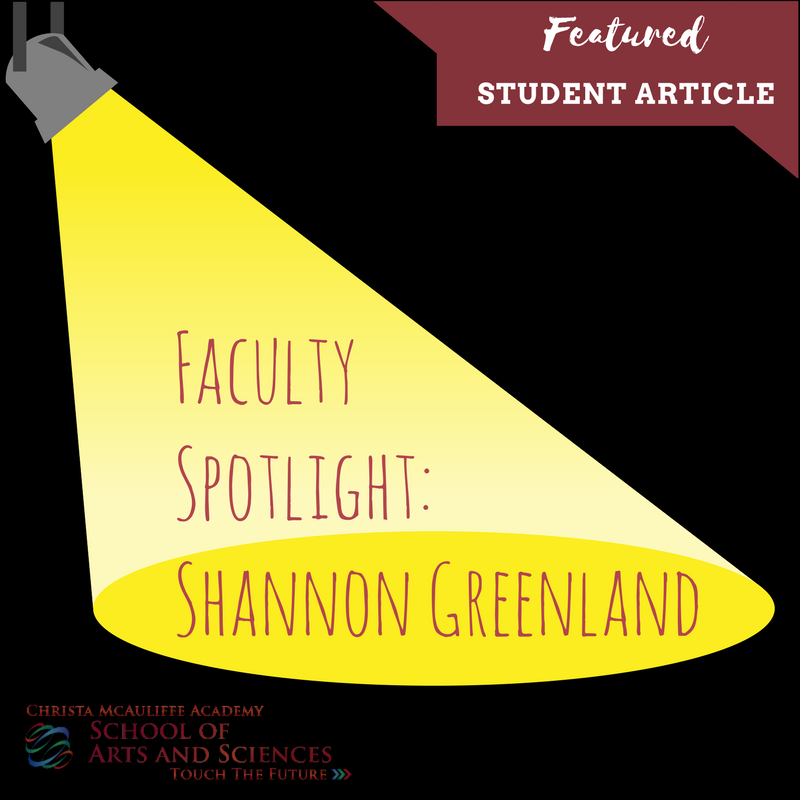 In an exciting new spotlight segment, students of CMASAS interview faculty members and fellow students! This article was written by CMASAS student, Shannon
Faculty Spotlight: Shannon Greenland
Shannon Greenland is not only a beloved CMASAS teacher and Personalized Education Counselor, she is also an award-winning published author of many young adult novels and thrillers. This week, I had the opportunity to ask her some questions about her life as an author.
Ms. Greenland, thanks for taking the time to answer some of my questions. When did you write your first full-length novel?
Ms. Greenland: I was in my late twenties when I wrote my first full length novel.
Did you try to get it published? And if so, what steps did you take, like trying to get an agent or sending your manuscript directly to publishers?
Ms. Greenland: My first novel was a hot mess! I had no clue what I was doing. I started attending writing workshops and learning the craft, then I began re-writing that novel. However, that novel was not the first one I sold. That novel, in fact, is coming out this July. Just goes to show how crazy the publishing industry can be!
Did you have success?
Ms. Greenland: Yes, I met my agent at a conference and I pitched her an idea for teen spies. She loved it and asked to see the proposal. I then sent it to her and within two weeks she had sold the entire series to a publisher. The series is called The Specialists and it just celebrated its 10th year of publication.
Was there a defining moment (or moments) of elation in your career as an author in which you thought, "YES! This is it! I've hit the big time!"?
Ms. Greenland: This is a great question! Publishing has lots of ups and downs. This past week I signed a new book deal and so that was tremendous "up" for sure. Meeting readers is also a huge "up" for me. But with the ups come the downs. I've had books do well and others not. I've had wonderful reviews and some not so great. I've won awards and been passed over for others. It is definitely a roller coaster of a career.
The publishing industry is changing so much with Amazon enabling authors to publish their books independently. Have you published any of your books this way, and are there any benefits or drawbacks to it when compared to going with a "traditional" publisher?
Ms. Greenland: I have one book independently published. I chose to go this route because I wanted to experience the Indie Pub route and expand my knowledge. I have many author friends who are quite successful independently pubbing their work. For me, the traditional route seems to work best.
You are on a book tour right now. Are they a requirement from your publisher, or do you do it because they are fun? Or is it a mix of both?
Ms. Greenland: Attending book festivals and conferences is one of my favorite things to do. I love meeting readers and signing books. I attend some events per request from my publisher and others per invitation by the festival coordinators. A few I attend on my own to network with other authors and see friends and/or family that might live in the area.
I know you write Young Adult novels under your real name, and thrillers under the name of S.E. Green. Do you plan on adding any other genres to your repertoire?
Ms. Greenland: I just signed a deal for my first Middle Grade novel and that will be out under my real name, Shannon Greenland.
You are so busy, yet you always take time for me as my teacher. How do you juggle teaching with your career as an author?
Ms. Greenland: I love being busy! Luckily, my teaching job can go on the road with me and my books. Like last week I was in Tennessee speaking at several book events, but I also made time every morning and evening to log into CMASAS and interact with my students.
And who's your favorite CMASAS student? Just kidding. Thanks so much for taking time out of your busy schedule. We all appreciate your efforts as our teacher and look forward to reading more of your books!