'18 Graduation in San Diego, California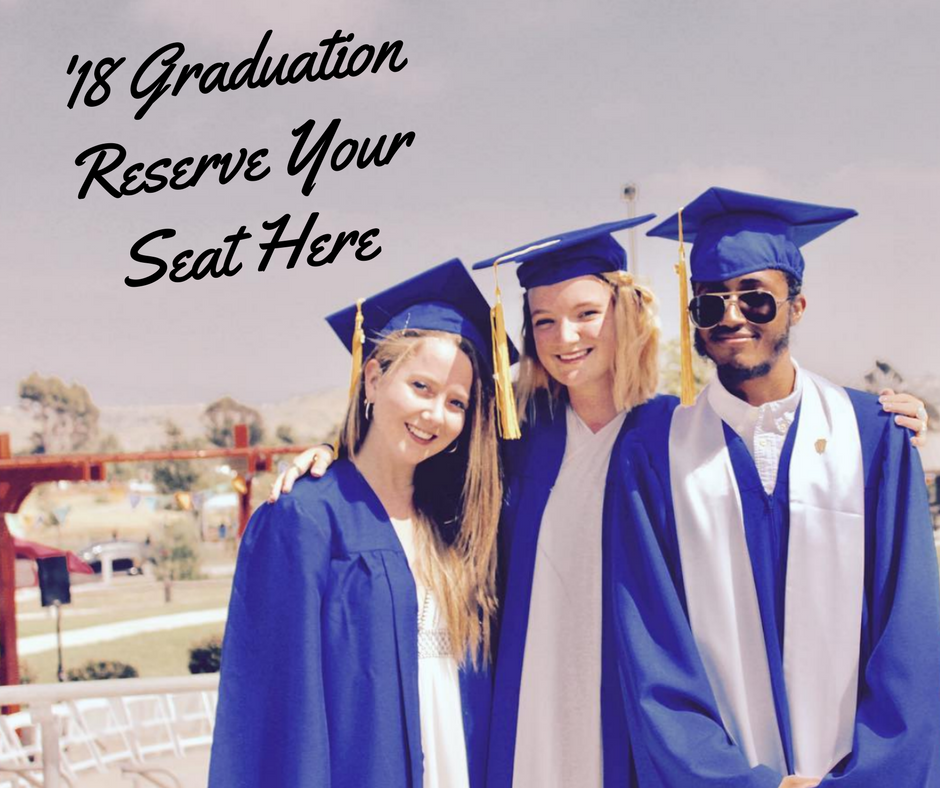 Picture this: sand between your toes, a diploma in your hand, and throwing your graduation cap in the air. This will soon be your reality at the Class of 2018's graduation in sunny San Diego. 
Let the countdown begin! We're really excited to see everyone and have listed our week's events below. Please take a look and if you have any questions, our San Diego local Christopher Geis is happy to help.  
Want more? Here is a list of twenty top things-to-do while visiting San Diego. We highly encourage everyone to at least see one sunset at Sunset Cliffs (don't Google it. We know you're tempted. See it live!).  
Remember that Southern California is notorious for unexpected traffic.  Waze is a fantastic smartphone app to get real-time traffic reports. To make your travel even smoother, we've created this inter-active Google map which has exact GPS coordinates of the weekend's events!
Accommodations
Holiday Inn Bayside  
4875 N Harbor Dr, San Diego, CA 92106 
Reserve your room here or call (800) 662-8899 to make reservations under "CMASAS" 
Friday, June 8th 
National Honor's Society Induction and Beach Day Bonfire
Location: Due to Construction the site has been moved to:  Ski Beach 1600 Vacation Road, San Diego, CA 92109
Time: 4:00pm NHS Ceremony Begins (6:00pm Dinner)
Food: San Diego Taco Food Truck
Activities: Frisbee, Lawn Games, School Beach Volleyball Game, Surfing, Sunset viewing and a  bonfire with s'mores (Yes, s'mores!!!) after 8:00pm 
 
Saturday, June 9th 
Graduation Ceremony and Celebration 
Location:  Point Loma Nazarene University 3900 Lomaland Dr, San Diego, CA 92106 
Time: 3:30pm – 9pm  
Cost: $75 at the door* 
Activities: Celebrating our graduates! Live music, delicious dinner, chocolate fountain, photo booth, DJ and dancing.  
Menu:  Little Italy Buffet Includes - Anitpasto platter, Ceasar Salad, Italian Vegetables, Pasta Bar (Including Grain-Free Fettuccine, Marinara and Pesto Cream Sauce), Italian Sausage and Meatballs, Dinner Rolls, Beverages, and a Chocolate Fundue bar for Dessert.
NOTES FOR PARENTS 
*Make sure the graduation fee has been paid for each graduating student. Note that this fee includes the graduate's ticket to graduation Parents/Family members can purchase tickets to graduation here. Please enter the amount in the "Misc Payment" section for the total number of guests not including the graduate. 
Graduation - CMASAS Style
We offer students a physical graduation ceremony each year at various locations throughout the United States.  While not all students choose to or are able to attend, we feel the importance of providing a culminating high school experience for students is essential to our philosophy and personalized touch.  Our graduating class currently averages close to 60 students each year and is growing.
'17 Graduation in San Diego, California
Class of 2017 Commencement Address: Maude Gorman (CMASAS Alumna)
Christa McAuliffe Honarary Speaker: Tim McDonald
'16 Graduation in Kauai, Hawaii